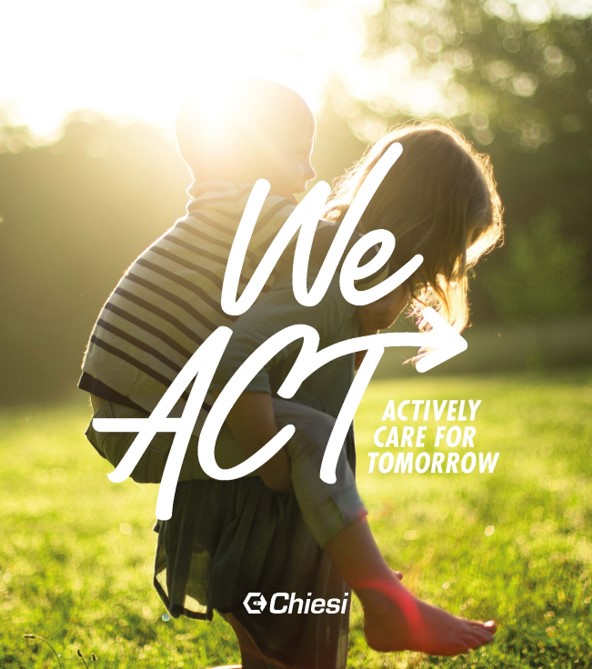 Corporate social responsibility
We are deeply aware that we are an integral part of society and to the best of our abilities, we participate in programs and activities related to social contribution.
We consider it our duty and we believe that the development and prosperity of our company is inextricably linked to the prosperity and sustainability of the natural and social environment in which we live and develop.
Chiesi Group has adopted eight UN Sustainable Development Goals (Agenda 2030) to help create a better and sustainable future for all.
The goals are good health and well-being, decent work and economic growth, innovation, reduced inequalities, climate action and responsible production and consumption.

Chiesi Hellas is enhancing its efforts to achieve these goals and to this effect, we have signed the Chiesi Sustainability Manifesto "WE ACT" and adopted a Strategic Sustainability Plan to integrate the principles of sustainability in the way we operate as a business.
Responsible Production and Consumption - We are committed to saving resources and energy by limiting the use of productive factors with negative impacts on the environment and we place particular emphasis on achieving responsible consumption and production. We demonstrate our commitment in practice, by responsibly offering the portions of non-consumed meals in the framework of our social events, to non-profit organizations which support our fellow citizens who are in need.
Good health and well-being - For all of us working in Chiesi Hellas, our continuous effort to improve the health and quality of life of our fellow citizens is an integral part of our activities not only in the form of research and development of innovative medicines, but also in the context of social responsibility with respect for the people, by supporting initiatives and public contribution actions.
Sustainable Cities & Communities & Climate Action - We adopt energy and resource-saving practices in our premises by, among others, recycling paper, plastic, light bulbs and batteries.
Reduced Inequalities - Reducing inequalities is one of the basic principles of the Chiesi Group Code of Ethics. We prohibit any form of discrimination in our staff, especially if it is due to political, racial or linguistic reasons or is related to trade unions or their gender and we guarantee equal opportunities for all employees by assessing them solely on the basis of their personal qualities and value and their performance.
Industry, Innovation and Infrastructure & Decent Work and Economic Growth- We support innovation and we want to contribute to the economic growth and to creating job positions not only within the Group, but also in society in general. Chiesi Hellas allocates 1% of its total turnover annually for donations and grants, including training of health professionals and conducting scientific research.
Partnerships for the Goals - We believe in the power of cooperation and that is why we respond to the calls of the Social Pharmacies across the country and Nursing & Social Institutes, providing them with packs of proprietary formulations but also by equipping them with modern medical equipment.
Our efforts are based on three pillars:
Contributions to patients
Contributions to the community
Contributions to the scientific community
Contributions to patients
We support the Hellenic Cystic Fibrosis Association and Humane Social Enterprise which, through initiatives such as the "Worldwide Cystic Fibrosis Day - Breath Unlimited Event" aim at educating and informing patients and raising public awareness on cystic fibrosis.
Contributions to the community
Being aware of the needs of the society, we contribute not only to the health but also to the well-being and sustainability of society. We provided financial support to the Ark of the World to meet the current needs of the organization, to the Holy Metropolis of Aitolia and Akarnania, which hosts children of vulnerable families in a summer camp in Paravola, Trichida and we also provided the material of the first aid kit to the Holy Metropolis of Glyfada.
With a sense of responsibility towards the community, we provided free packages of our products to our fellow citizens who were victims of the forest fires in Mati, Attica.
Contributions to the scientific community
We have been supporting since 2011 of the works of the research team of the synthetic pharmaceutical laboratory of the Department of Pharmaceutical Chemistry, Department of Pharmacy of the National and Kapodistrian University of Athens (EKPA), with the renovation of the laboratory equipment, the supply of multi-core computers to perform demanding biomolecular simulations, but also with scholarships to doctoral students.
We also cooperate and support the Hellenic Thoracic Society by sponsoring educational scholarships which enable young scientists to continue their research and help to improve the position of greek pulmonology in Greece and abroad.