1935-1955
The company was founded in Parma in 1935 when Giacomo Chiesi, a chemist who dreamed of doing research, bought the Laboratorio Farmaceutico Parmense and embarked on his entrepreneurial adventure.
In the early forties the laboratory started to expand and sell its products abroad, exporting drugs to Eritrea and Austria. However, in 1944 the war broke out and part of the company was destroyed during a bombing raid, bringing all activities to a stop until the war ended.
When the laboratory resumed its activities, the first scientific collaborator was hired and Chiesi launched its first penicillin-based ointment. At the time, Giacomo Chiesi was considering buying some land to build a real factory. The new pharmaceutical factory was launched in 1955, had 50 employees and manufactured an extensive range of successful drugs.
1965-1979
In 1966 Giacomo Chiesi handed over the management of the company to his two sons Alberto and Paolo. Chiesi Farmaceutici was a small company at that time, yet already looking towards international markets.
Alberto and Paolo started a continuous expansion and internationalisation process by opening the first office abroad, in Brazil in the late seventies. 1979 represented a significant turning point with the launch of Clenil, a cortisone preparation indicated for asthma, allergic rhinitis and airway inflammation. Clenil is a successful drug, especially in a market where effective treatments for such diseases are so few and it lead the way for Chiesi Farmaceutici's commitment to respiratory diseases.
INTERNATIONALISATION AND THE THIRD CHIESI GENERATION
1980-2014
Following the success of Clenil, Chiesi's interest extended to the anti-inflammatory and pain killer areas and in 1989 the company launched Brexin, a fast-acting anti-inflammatory with good gastric tolerability. Brexin was soon marketed in over 60 countries, certified for the United States market and now has an international patent. Almost ten years after the Brazilian adventure, the Group's international expansion is very strong, both in the European and non-European countries. Since 1987, Chiesi has opened affiliates in Pakistan, France, Spain, Greece, the United Kingdom, Austria and the Eastern European countries, the United States, Germany, the Maghreb countries, Turkey, Bulgaria, China, and Scandinavia. The Group's historical products, focussing on the respiratory and cardiovascular therapeutic areas, continue to be well-established, and new products for neonatal diseases, musculoskeletal and vascular disorders have also been launched.
The third Chiesi generation joined the company between the end of the second and the beginning of the third millennium, at different times and with different roles: Alessandro, Andrea, Giacomo and Maria Paola. Their input opened up new lines of research and development: the Modulite® technology for respiratory products with eco-friendly sprays like Foster®, fixed anti-asthma combination in pressurised metered-dose inhaler with new propellants and the development of the NEXTHaler®, dry powder inhaler, considered the most innovative device in its class. In 2008, Chiesi entered as a pioneer in the world of regenerative medicine by founding Holostem Advanced Therapies Ltd, and in 2013, with the acquisition of the Danish biopharmaceutical company Zymenex, moved into biotechnology, positioning itself today at the height of innovation in the bio-pharmaceuticals sector.
CHIESI HELLAS
In January 1998, twelve people with vision, courage and enthusiasm, established in Greece the subsidiary of Chiesi, an Italian pharmaceutical company which is headquartered in Parma and has been performing enviable research work, particularly in the field of respiratory diseases. A number of interesting products complement and strengthen in recent years the arsenal of doctors and provide reliable solutions to serious diseases such as asthma, chronic obstructive pulmonary disease and respiratory distress of newborns.
Today, Chiesi Hellas having already increased its staff and sales, is a well organized company with a strong presence in the Greek pharmaceutical market, with high rates of growth that are a serious asset for an even better future.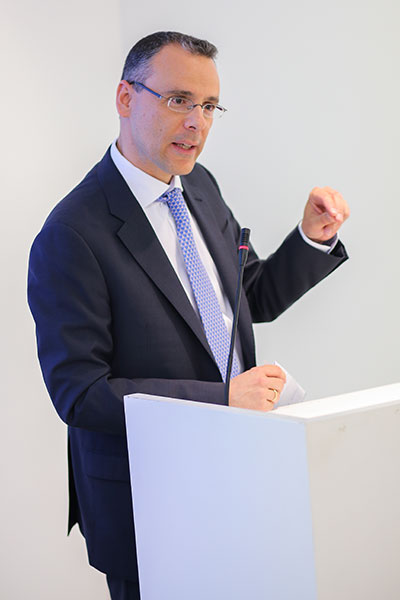 Stavros G. Theodorakis
President & CEO
The main philosophy of Chiesi focuses in three axes:
serious and reliable products that give meaningful solutions to the treating doctor
transparent procedures of promotion with strict adherence to the Code of Conduct of the Hellenic Association of Pharmaceutical Companies (SFEE) and absolute respect for the operation of the doctor
executives with a high degree of education, in a human working environment, that provides faith, certitude and perspective
Chiesi Hellas invests in its people, relies on them and supports them. It understands their needs and rewards their efforts. It understands the difficulties they face and helps them overcome them. Through continuous training, it extends their cognitive level and improves their skills.
The constant concern of the Company's Management is to maintain a team of high-level people who rejoice in what they do, are delight in what they achieve and are characterized by professionalism, willingness to realize demanding goals, courtesy and ethos.